After a successful sold out first printing, Dark Horse Comics is collecting a new edition of the over-the-top-madcap-fantasy-adventure-comedy, Sabertooth Swordsman and The Mayhem of The Malevolent Mastodon Mathematician! (Winner of the 2014 Russ Manning Promising Newcomer Award for Aaron Conley's intensely intricate artwork!)
"There's awesome and then whatever level is above that… that's where SABERTOOTH SWORDSMAN lives. Such a fun comic." — Skottie Young (I Hate Fairyland)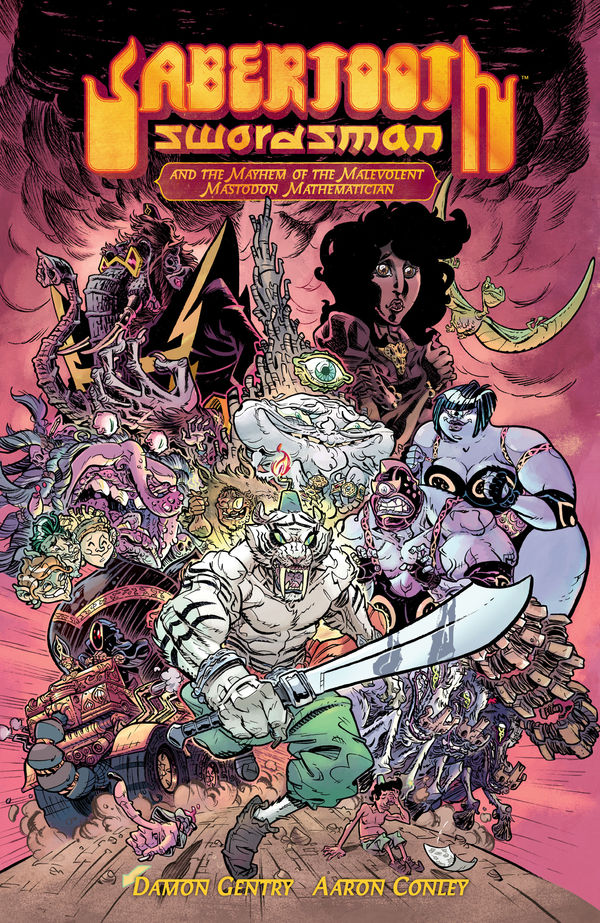 "Sabertooth Swordsman is f*cking awesome!" – John Arcudi (Rumble)
Aaron and I spent several years pitching and forging and crying blood tears and co-creating our debut black & white graphic novel and we're very proud of the positive feedback it's received, and hopefully it'll reach an even larger audience with this new edition featuring 32 new color pages of short stories and art, in preparation for the ambitious sequel we're working on!
"Snagged the SABERTOOTH SWORDSMAN hardcover by Damon Gentry & Aaron Conley; hilarious, jawdropping, wholly badass work." —Adam Warren (Empowered)
RIYL: Fans of the wild and weird and fantastical—such as Brandon Graham's Prophet, Rangel Jr. & Ziritt's Space Riders, Jeff Smith's Bone, Andrew Maclean's Headlopper, Johnny Ryan's Prison Pit, works of Moebius, Heavy Metal Magazine, old school video games, or Teenage Mutant Ninja Turtles—will pop a cork for Sabertooth Swordsman!
"Sabertooth Swordsman is the most exciting graphic novel I've seen in a long loooong time. An absolute masterpiece that is thrillingly original and alive with kinetic energy! Damon and Aaron should be instant superstars!"— Mike Allred (Madman)
Click here for an 11 page preview on Comics Alliance.
MORE PRAISE BECAUSE WHY NOT
"Sabertooth Swordsman is an amazingly fun exciting & fresh comic by Damon Gentry & Aaron Conley." – David Petersen (Mouseguard)

"One of the coolest hauls from ECCC is a book called SABERTOOTH SWORDSMAN from Dark Horse. The art by Aaron Conley is insane. Love this stuff." – Ryan Ottley (Invincible)

"A meeting of two creative sensibilities that brings to mind the classic Miller/Darrow combo, but with a freewheelin' psychedelic kung-fu kink." — Jamie S. Rich (LadyKiller)

"Sabertooth Swordsman is the greatest work of human expression AT LEAST in the last 10,000 years, including all holy texts." – Buster Moody (Task Force Rad Squad)


"I'm really excited about the work Damon and Aaron are doing. Sabertooth Swordsman is fantastic comics. It's the kind of work I hope to find when I go into a comic shop."—Brandon Graham (Prophet)

"Every now and then a comic knocks you on your ASS. Sabertooth Swordsman did just that…ASTOUNDING. ASTOUNDING." – Jason Wood (11 O'Clock Comics Podcast)